Although you may aim to carefully choose only tenants that you feel you can trust, being a landlord in Banning-Beaumont means that sooner or later you may need to find an eviction lawyer. Your tenants may be the most stand-up people out there, but bad things can happen to good people – and if they fail to pay the rent, you have to take action to protect your own income.
This guide will cover all of the information you need to access when you want to evict your tenants. You should always seek out the services of a professional Banning-Beaumont eviction lawyer to ensure that you have served due process and that all the legal requirements have been fulfilled. However, if you have a better understanding of your legal rights as a landlord from reading this guide, you will know when it is time to take action – as well as what kind of action you should take. This will also save you from getting in hot water yourself!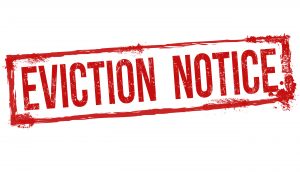 You should issue notice to your tenants if you want to start the Banning-Beaumont eviction process. You have to ask them to move out under their own steam first before you consider taking legal action. It is when they choose not to do so that you should start considering eviction, which is a legal process to force them to leave the property.
Your Banning-Beaumont eviction lawyer will now take action by filing an Unlawful Detainer Lawsuit on your behalf, in the Superior Court. This means an eviction lawsuit will be underway. You would be the plaintiff in this suit, while your tenant will be named as the defendant.
Your tenant will be served with the Summons and Complaint, giving them a term of five days to respond to the lawsuit. If they do not respond or leave, then you will see a 20-day period before the judge hears your case in court.
This is much faster than other legal proceedings can be, but you may still feel impatient. Don't be tempted to remove your tenant's belongings, change the locks, or take other steps to remove them yourself. You have to wait for the law to take those actions.
Once you are ready to begin the legal process, the eviction notice is your first port of call. If you haven't served an eviction notice, you will find it difficult to remove your tenants as they have the right to receive a notice period before leaving.
Your Banning-Beaumont eviction lawyer will be able to tell you what kind of format and outline your eviction notice requires, as it can change based on several factors. These include how long they have been your tenants, what kind of property they are renting, and what your current rental agreement states in terms of the notice period required. It can get complicated, so knowing your legal process is covered will be a weight off your mind. Failing to serve the correct notice could give your tenants leave to stay in the property for longer.
You do have the right to remove tenants from your Banning-Beaumont property if they don't pay the rent, so long as you do this through a legal process rather than by force. You should serve a 3-Day Notice to Pay Rent or Quit, which does pretty much what it sounds like – ensuring that either you are paid what you owe or you get your property back.
However, there is one thing that you need to know. This is how your three days are counted. Serving the notice on a Saturday does not mean that the period is up on a Monday! Let's break it down: you must not issue the notice on a Saturday, Sunday, court holiday, or the day the rent is due. So, you should start from the next weekday after the rent is unpaid.
Your three-day period then starts the day after – so two days after the due date for the rent at minimum. These three days then run concurrently, so if you serve notice on a Friday, then your period is up on Monday.
Make sure that you state the full amount of rent due in your notice, but don't be tempted to add other information such as bills or fees that have not been paid. You should include the name, address, and telephone number of the person who is expecting to receive the rent (likely yourself). There should also be clear instructions on when and how the tenant can pay you, giving your availability if you must receive the rent in person.
A 3-Day Notice is not just valid for failure to pay rent, but also for other violations. If your tenants broke the rules of their rental agreement in some other way, you can give them three days to correct this violation or move out in just the same manner.
The 30-Day Notice to Vacate or Quit is usually used if your tenancy agreement runs month to month. If your tenant has been living in the property for more than a year, however, you should apply a 60-Day Notice instead. The same is true if you have a fixed-term lease, or a longer lease term than month to month – the 30-Day Notice does not apply in these situations.
The law in Banning-Beaumont requires you to serve this 30-Day Notice in a written format, although you are not required to denote your reasons for wanting to break the lease. It's your right as a landlord to end it whenever you like, so long as it does not break your agreement.
However, do be careful about your motivations. If it can be proven, or at least argued successfully, that you are ending the tenancy because of a dispute or out of discrimination, then you will not be allowed to ask your tenants to leave.
Make sure not to accept rental payments from your tenants if this payment would take them over the notice period, as you would basically be accepting their payment to live in the property for a longer period. If they do make a payment, even if by accident, be sure to return it as soon as possible. Accepting it would invalidate your notice, meaning you have to serve it again and begin your notice period once more.
Once again, your notice period starts the day after you have served the 30-Day Notice. You will be able to count weekends in the period calculations, but you cannot end your notice period on a weekend or a court holiday. In the extreme circumstance that your period ended on a Saturday, and the Monday was a court holiday, your tenant would actually use Tuesday as the last day of notice.
If you have noticed the pattern, then you will understand easily that this type of notice gives your tenants 60 days to leave the property. You will need the services of a Banning-Beaumont eviction lawyer to figure out how much notice you have to give. It can be shortened back down to 30 days if you meet certain requirements, as follows:
The unit is separate from the title for another unit, meaning that it is not part of a larger building which you own; and:
You have legally agreed to a sale of said unit to a genuine purchaser; and:
The purchaser has genuine intentions to live in the property for at least a year after the sale has been finalized; and
It has been less than 120 days since the funds were placed in escrow
All of the above must apply to reduce the term to 30 days. If one is missed – for example, the new purchaser does not wish to leave there – then you have to stick to 60 days.
Use the same rules for calculating the 60-day period as those which you would use for the 30-day period. This just gives them longer to move out.
With government-subsidized Section 8 tenancies, the rules have been changed to protect those tenants who may be the most vulnerable. Because of the special exception made in these cases, you need to give a 90-Day Notice rather than 30 or 60 days. It may take longer for these tenants to find a suitable new home, which is why they are given that extra breathing room.
You must not raise the rent, or make other changes to your rental agreement, once you have served the 90-Day Notice. This means your tenants will still receive fair treatment while looking for a new place to live. Just like when calculating the 30- and 60-day periods, you should count weekends right up until the final day, which must be on a business day. If your tenants don't leave after the appointed date, your Banning-Beaumont eviction lawyer will take the next steps.
Remember that you can't try to force or threaten your tenants to leave, even if they do not observe the notice that they have received. You must file an Unlawful Detainer Lawsuit instead. If you do try to take action and it causes any damage to the tenant's property, you will be liable for these charges. You could also be fined as much as $200 a day for taking matters into your own hands, and the court will not look kindly upon you.
Ask your Banning-Beaumont eviction lawyer to file the Unlawful Detainer on your behalf so that you do not need to learn what is required. About half of the cases seen in Banning-Beaumont tend to be uncontested, which means that the tenant does not respond to the lawsuit in any way. Should this be the case, the Sheriff will step in to serve a 5-Day Notice to Vacate, which is legally binding.
Banning-Beaumont eviction lawyers will help you stay on the right side of the law during the tricky process of a residential eviction. With so many stipulations, exceptions, and regulations coming into play, it's no wonder that they can become too complicated for the layman. Be sure to respect all of the rights of the tenants – and don't forget you are asking them to leave their home.
It's important to move the process on quickly so that you can bring in a new tenant or use your property in the way that you wish, but don't be tempted to try to speed things up. The law moves quickly enough, and you don't want to face legal charges of your own for getting involved!
Commercial property evictions can be more emotionally charged, as you know that the tenant may lose their business – and effectively their livelihood – if they cannot stay in your property. Remind yourself that the property is your own livelihood and that you need to protect it!
You can only evict a commercial tenant if they have broken the terms of their rental agreement or it has come to an end, which is when you should enlist a Banning-Beaumont eviction lawyer with experience in the commercial sphere.
If your tenant comes up with the rental payment in full before the end of their notice period, then you must allow them to stay. This does not apply, however, if they only provide a partial payment. You should make this clear to them, and if they do happen to make a partial payment, you should instruct your Banning-Beaumont eviction lawyer to update your court complaint. It should always show an accurate representation of the total money you are still owed.
Make sure that you clearly state the amount they must pay to be allowed to stay, or what other changes they need to make. If they do not comply, you can go ahead with an Unlawful Detainer Lawsuit just as you would in a residential case.
This is the address and details of the court that handles evictions in Banning-Beaumont:
SUPERIOR COURT OF CALIFORNIA
COUNTY OF RIVERSIDE – BANNING COURT

311 E Ramsey St
Banning, CA 92220
(951) 572-5408
If you need a Banning-Beaumont eviction lawyer to work for you, make sure to go ahead and contact us today. We will help you regain control of your property investment with the minimum hassle.