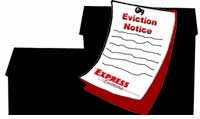 Express Evictions strives to offer full-service eviction services solutions to make the eviction process stress free. We provide a full array of services from the beginning of the process to the end and everything in between. We can help you prepare your Notice to Quit, we can have our registered process servers deliver or serve the notice on the bad tenants. We will continue the process by filing the Unlawful Detainer Lawsuit (Eviction) for you and again, get the tenants served with the court Summons and Complaint. The following are services provided by Express Evictions:
PROCESS SERVING
Our Capable and licensed process servers are available to deliver notices with timeliness and dependability. Our registered process servers can also serve the Summons and Complaint that is required by law. In order to serve the Prejudgment Claim of Right to Possession, the Process Server must be a Registered Process Server.  Our process servers are Register and have met all of the requirements to become registered including posting a bond. In addition, we know that some tenants are difficult to serve. In those cases, our process servers will go to the rental property early in the morning and late in the evening to effectuate the Service of Process.  If necessary, we will go to court for you and ask the Judge to sign a Posting Order with authorizes the posting of the Summons and Complaint in a conspicuous place on the property.
FAST EVICTIONS
At Express Evictions, we know that you want a Fast Eviction and we strive to provides a Fast and efficient and accurate full-service handling of your eviction case. With our professional and talented staff, you can expect the Fastest Eviction Service throughout your case and we assure your needs to be met with ongoing communication and detailed follow-through during and after the process. Contact us today to learn about fast evictions!
ONSITE EVICTION SERVICES
Express Evictions also provides physical evictions and removal services for your property with a trained staff on-site to complete the physical portion of the eviction.