Landlords in Norco are likely to end up needing the services of a Norco eviction lawyer sooner or later, no matter how careful you are when choosing your tenants. Anything can happen during the course of a lease. Though you may wish to give your tenants the benefit of the doubt if you are able to, sometimes it just reaches a point where you have to take action to protect your investment.
The guide we have prepared for you below includes all of the information you will need on hand to successfully evict your tenants, though you should of course always employ an experienced Norco eviction lawyer to be sure that due process is followed. With a better understanding of your legal rights, you will be able to enforce your rental contract and go through the eviction process with less stress and hassle if it does come to that.
In order to trigger the eviction process in Norco, you have to first issue notice to your tenants. This is the first stage; it's where you ask the tenants to move out on their own. If they choose not to do so, you can move on to eviction, which means they legally must leave the property. Your Corona eviction lawyer will help by filing an Unlawful Detainer Lawsuit in Superior Court, thus triggering an eviction lawsuit. For the course of this suit, you will be identified as the plaintiff, with your tenant as the defendant.
You are not allowed to try to remove the tenant from the property yourself – so don't try to remove their belongings or change the locks so they can't get in. You have to leave the process in the hands of the law, which normally acts very quickly. Your tenant will be served with a copy of the Summons and Complaint. They will then have a term of five days to respond to the lawsuit if they wish to do so. If they don't respond and still don't leave, there should only be a delay of 20 days for the judge to hear your case in court – much faster than other types of legal proceedings.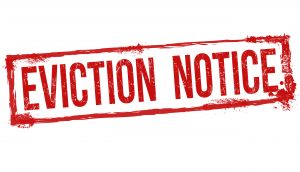 As we touched upon, the eviction notice is the beginning of the official legal process. If you don't serve one, it will be a lot more difficult for you to remove the tenants from your property – they have the right to some form of notice period before they leave. Remember that your tenants also have rights that are protected by law.
Your eviction notice has to follow a certain outline so get this double-checked before you serve it. The rules depend on what kind of property they are renting from you, how long they have been your tenants, and how much notice you are required to give them under the terms of your rental agreement. This is why having an eviction lawyer by your side will make things much less complicated for you! If you don't follow the rules carefully enough, your tenants could get extra time to stay in the property or they may not even have to leave until you serve the correct notice.
As a property owner, it is your absolute right to remove tenants from your Norco property if they have not kept up with rent payments. However, you will need to serve a notice to do this legally. Your 3 Day Notice to Pay Rent or Quit does just that, ensuring that you either get the money you are owed or your property back.
Calculating the three-day period can be tricky if you are not familiar with the ins and outs of the law. You can issue the notice the day after rent is due unless it is a Saturday, Sunday, or court holiday. In other words, you have to wait for the first business day on which rent is overdue. Your three-day period then starts the following day.
So to recap, your week looks like this: first, the day on which the rent is due; then, the next business day on which you serve notice; and then the following day on which the three-day period starts. These three days run concurrently, no matter what.
Your notice has to follow these requirements:
Only note the full amount of rent due – do not include other bills or fees which they may be behind on
Include your name, address, and telephone number (or the details of the person who should receive the payment if it is not yourself)
Add instructions for how the tenant should pay the rent, for example giving them your availability to accept payments in person or letting them know the address of the bank they should use
You can also use a 3 Day Notice for other violations of the rental agreement – for example, bringing in a pet in a no-pet property. With this kind of notice, the tenant must correct their violation within the three days or agree to move out.
If your tenancy agreement is paid monthly, you can issue a 30 Day Notice to Vacate or Quit. This usually only applies if your tenant has been living in the property for less than a year, however – longer tenancies require a 60 Day Notice. It also cannot be used for a fixed term lease or if you have agreed to a longer lease term than a month to month basis with your tenant.
California law states that you must serve the 30 Day Notice in a written format. You don't have to write down your reason for wanting to break the lease in this case – you have a legal right to end it if you desire to do so.
Make sure that you don't accept any rent payments from your tenants, which would then mean they have paid up for a period of time after you expect them to leave. Return any payment they make as soon as possible. If you do accept the payment, it will invalidate your notice and you will need to serve it again.
You must be sure to adhere to Norco eviction laws when choosing to end a lease. You cannot evict them for discriminatory reasons or as a form of retaliation. For example, if you have an ongoing dispute with your tenants, it's a good idea to resolve this first before you issue notice – as they may try to argue in court that you have chosen to evict them as payback.
The 30-day period your tenants have to leave the property begins the day after you serve the notice. You will be able to count weekends but only until the last day of the notice period. If it falls on a court holiday or a weekend, you will have to give your tenants until the next business day to move out – so they could get a few extra days.
As you may have guessed, this notice gives your tenants 60 days to leave your property. Your Norco eviction lawyer will help you to work out if you need to give this type of notice – it is usually used if the tenant has been with you for more than a year. It can still be shortened to 30 days in some circumstances. They are as follows:
The unit is separate from the title for another unit, i.e. it is not part of a larger property such as a block of flats that you also own
You have officially and legally agreed on a sale of the unit to a genuine purchaser
The buyer has genuine intentions to move into and live in the property for at least a year after the sale goes through
You have not waited 120 days or more after placing the funds in escrow to inform your tenants
All of the above must apply in order to shorten the term.
If you do use a 60 Day Notice, the rule for counting the period in which your tenant must leave is the same as for the 30 Day Notice – you simply have a longer time for them to make their arrangements.
Section 8 tenancies are government subsidized. This means that the rules are a bit different. All landlords must give a 90-day notice period in this case, which makes sense given that the tenants may be particularly vulnerable. It will be more difficult for them to find a suitable home and may take longer.
You cannot raise the rent or make other changes to your agreement during the notice period. Again, this protects your tenants from unfair treatment. The notice period, as with other forms of eviction, will begin the day after you have informed your tenants. If your tenants do not leave the property once the full period has passed, you will be able to take the next steps to remove them through your Norco eviction lawyer.
Rather than taking matters into your own hands, always file the Unlawful Detainer Lawsuit and wait for the law to take its course. You must not change the locks without giving them the new key, remove their possessions, try to intimidate them, or use other methods to try to force your tenants to leave. You will be held liable for any damages that happen as a result of your actions, and you could actually be in legal trouble yourself. Fines of a maximum of $200 per day can be issued by the courts if you undergo this kind of unlawful behavior.
Your Norco eviction lawyer can file the Unlawful Detainer for you. Around half of all cases tend to be uncontested, with the tenant failing to respond to the lawsuit. If this happens, the Sheriff will serve the tenant with a 5-Day Notice to Vacate, posting it on the front door of the property.
Norco eviction lawyers will help you to avoid falling foul of the law when it comes to residential evictions, which can become confusing thanks to all of the stipulations and exceptions which may come into play. Make sure that you respect the rights of your tenants, who are, after all, having to leave their home.
You will want the process to move on quickly so that you can use your property investment in a way that suits you, but going against the correct legal procedure will only land you in hot water. You may even see fines or legal charges if you act in a way that contravenes the behavior set out in law for residential landlords.
When you are evicting a tenant from a commercial property, you will likely be very aware of the fact that they may lose their business and their livelihood as a result. But remember that you must also protect your own livelihood and you can't be responsible for someone else failing to pay their rent.
A Norco eviction lawyer can take care of the unpleasant realities of the situation if your commercial tenant is not paying what they owe. Should they manage to come up with the money before the end of the eviction period, your eviction will be called off. They must be allowed to stay on the property. If they only provide a partial payment, however, then this does not apply.
Be clear about the fact that partial payment will not invalidate the eviction period. If they do make a partial payment anyway, update your court complaint to reflect the new total of money that you are owed. State the amount you reasonably expect to be paid as clearly as possible, whether you give your tenant three days, five days, 30 days, or more to come up with it.
If they do not pay the rent, or they break the lease in some other way, then you can submit an Unlawful Detainer Lawsuit in just the same way as you would with a residential tenant
Here is the court in Norco where evictions are handled:
SUPERIOR COURT OF CALIFORNIA COUNTY OF RIVERSIDE – Norco Court

505 S. Buena Vista Ave Suite 201
Corona, CA 92882
(951) 222-0384
If you are looking for a Norco eviction lawyer, make sure to contact us today to make the process easier for yourself and to avoid any legal mistakes.