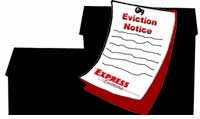 Express Evictions strives to offer a full-service solution to make the eviction process stress free. The following are services provided by Express Evictions:
PROCESS SERVING
Capable and licensed process servers are available to deliver notices with timeliness and dependability.
EVICTIONS
Express Evictions provides an efficient and accurate full-service processing of your evictions. With a professional and talented staff, you can expect your needs to be met with ongoing communication and detailed follow-through during and after the process.
ONSITE SERVICES
Express Evictions also provides physical evictions and removal services for your property with a trained staff on-site to complete the physical portion of the eviction.