In recent years the San Diego County Superior Court has reduced the number of courts hearing Unlawful Detainers (Evictions) from 4 courthouses to 2.  Previously eviction cases were heard at the Chula Vista and El Cajon Courthouses; however those cases have now been transferred to the vastly overburdened Central Hall of Justice downtown.  The only other remaining Unlawful Detainer Court or Eviction Court in the County of San Diego is the North County Division in Vista.  What this means to San Diego Landlords and their Skillful Eviction Attorneys is that the process moves slower in San Diego than in other counties, like Riverside, for example, which has 6 courthouses processing evictions.
The San Diego Superior Court has also recently implemented an e-filing system for specific documents, namely the Summons & Complaint, which does help speed up the system considerably.  An Eviction Attorney practicing in San Diego County must partner with a recognized E-Filing service provider in order to take advantage of this system.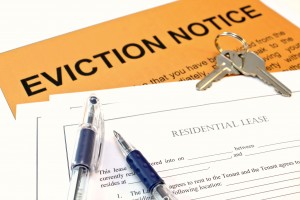 San Diego Eviction Attorneys must also be aware of the slight rent control ordinances in effect within the City of San Diego.  While San Diego does not have rent control ordinances anywhere near to the extent of Los Angeles, San Francisco or Oakland, a landlord and their attorney can get themselves into a serious jam if they are not versed in the local rules.  For instance, while you can evict in San Diego with a 30-Day, 60-Day or 90-Day Notice to Terminate Tenancy, you must serve it with a clearly explained reasoning, such as "I am terminating your tenancy in order to move my daughter and her family into the unit."  Failure to include this explanation can cost you not only the 1, 2 or 3 months provided in the notice, but also the 2-3 months it routinely takes to complete an Unlawful Detainer Court Action.
There are a great number of Attorneys local to San Diego that practice Eviction Law concurrently with other Real Estate Law that may assist you with your eviction, or you can hire a company like Express Evictions that only prosecutes Unlawful Detainer Actions and has a wide and varied network of process servers, E-Filing service providers and local attorneys to most expediently and expertly handle your San Diego Eviction.  For the most accurate and knowledgeable assistance you can call one of Express Evictions seasoned and practiced clerks at (800) 491-1951 for a free consultation or to initiate the production & service of your notice or, if you have served a valid notice on your own, begin your lawsuit.